Darkest Hour numerous awards all the way. Gary Oldman, played Churchill in the "Darkest Hour", he wins best actor for Darkest Hour at Oscars 2018.
When Churchill first appeared in "Darkest Hour" and a match burned in the dark room, Gary Oldmam disappeared, while the bloated prime minister was resurgence. Director Joe Wright used the composition and coloring of a very classical beauty to reproduce history: British Prime Minister Winston Churchill The most important trial to face as prime minister: is to compromise Nazi or united against? Churchill will assemble the entire country to fight for freedom, trying to change the course of world history and spend the darkness before dawn.
Remarkably high contrast, with a 1940s shading palette of blacks and browns, Darkest Hour tracks Churchill's reluctant journey from shadow into light as he beats the Nazis, in spite of the chances, and every one of the naysayers in his path.
Joe Wright brings considerable visual artistry to this film. The natural lighting methods he used for the big set pieces worked so well. The practical lights in some of the darker rooms, were also spot on. Most of the footage is indoors, underground and dark night, tracking the streets out of Churchill's car window, keeping pace with him through the underground maze of the war rooms. Churchill was walking through the light and out of it.
He is often boxed into a frame within the frame – inside an elevator, for instance, rising through scopes of darkness. Indeed, even the lighting is considered: every frame is lit by a combination of warm sepia glows and cold, bright shafts of light – expressing.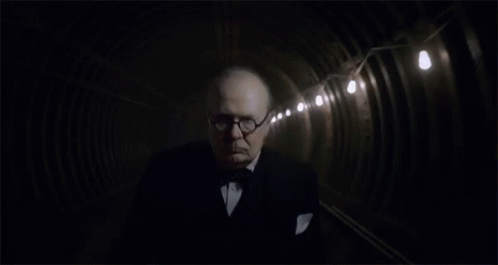 This film was about this character going from shadow to light in some ways, and he was reluctant to do it. Churchill was not liked, and he failed so many times before. That's why in the very first shot of the movie, the light is not on the Tory side. There is no light there. Then, at the end, there is a lot of light on him. It's this idea of him going from being not liked to being liked with light.
Success is not the outcome, the failure is not the end, it is important that there is no courage to move on.
I hope everyone's answer also is: Never, Never!